In Memory
Victor DeFore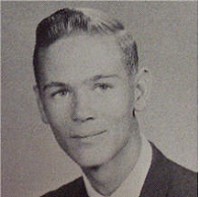 CPL Victor De Foor was serving with 101st Airborne Division in Thua Thien, South Vietnam, when he lost his life in hostile fighting.at Fire Support Base Ripcord. His tour of duty began on December 2, 1969.

Victor's name is listed on the Vietnam Veterans Memorial in Washington, D.C..
Panel 08W - Line 7

Victor was a Corporal in the 3rd Platoon, B Company, 2nd Batallion, 506th Airborne Infantry Regiment, 101st Airborne Division. The 506th was known as "The Fightin' Currahees."

Fire Support Base Ripcord was located on top of a tall mountain, surrounded by rugged, mountainous country a couple of miles from the A Shau Valley. FSB Ripcord was called "Hell on a Hill," as NVA constantly pounded the firebase with heavy artillery and 120mm mortar fire from the safety of the surrounding jungle-covered mountains.

Victor was one of the first casualties at Ripcord. He was on a perimeter watch post with one of his buddies, and decided to run to the mess to get some coffee for both of them. He was almost there when he was struck in the upper chest with a round from an NVA 75mm recoiless rifle.

Upon learning that Ripcord was surrounded by 4 regiments of NVA numbering over 12,000 troops preparing to attack, the decision was made to evacuate the fire base. The evacuation of Ripcord is one of the most intense stories in the annals of military history. Chopper after chopper went down, and many lives were lost in the struggle to get the men off the mountain in a continuous hail of enemy fire.

An excellent account of the evacuation is given at http://www.screamingeagle.org/ripcord.html .

Victor's B Company, 2nd Batallion, was the first company to arrive there, and was the last to leave.

Victor is buried in Cedar Hill Cemetery, in Cherokee County, Texas, near the town of Rusk.

Let us always remember and honor Victor Lee De Foor for making the ultimate sacrifice in the service of his country.