In Memory
Rodney James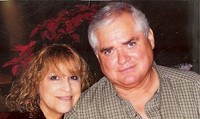 Rodney Joe James, age 59, of Houston, Texas, passed away Thursday, August 28, 2008, after a brief illness. Rodney was born in Abilene, Texas, moving to the Houston area in 1967. He was a member of Anderson Baptist Church and was self employed.

Rodney was preceded in death by his father, W. Joe James, in 1995. He is survived by his wife of 34 years, Elizabeth; two sons, Sean James and Rene Pagan, and one granddaughter, Carissa Pagan, all of Houston. Survivors also include his mother, LaVeria James, sister, Paula Bishop, both of Alvin, Texas, two brothers, Gary James of Lake Jackson, Texas, and Michael James of Houston, Texas, as well as numerous other relatives and friends.

Funeral services will be held on Wednesday, September 3, 2008, at the Houston National Cemetery. Arrangements are entrusted to Earthman Funeral Directors, Stafford, Texas.
If you are interested in learning more about Rodney since graduation, Rodney's brother Gary is in contact with Ron Morgan. Ron, thanks for letting us know of Rodney's passing.