In Memory
Susie Mathews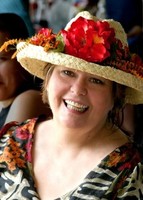 Mary Sue (Susie) Mathews, 62, of Texarkana, TX, died Monday, January 14, 2013, in a local hospital. She was born January 9, 1951, in Abilene, TX. She was an artist and a member of St. James Episcopal Church. She was preceded in death by her father, Lewis Jean Mathews; her mother, Mildred Howard; and a brother, James Thomas Mathews.

She is survived by her daughter, Melissa Willard Delk and her husband, John Delk; four grandchildren, Erika Delk, Mathew Delk, Franklin Delk, and Ian Patrick Delk; one brother, Billy Frank Mathews; three sisters, Dorothy Jean Dowling, Barbara Caffrey, and Elizabeth Hall; and a number of beloved nieces and nephews.

Memorial Services will be held at 10:00 A.M. Friday, January 18, 2013, at St. James Episcopal Church with the Reverend David Faulkner officiating. Burial will be in Hillcrest Memorial Park under the direction of Texarkana Funeral Home, Texas.

Memorial contributions may be made to the Randy Sams Outreach, 402 Oak St., Texarkana, TX 75501, or the Jeff Tarpley Rescue, P.O. Box 282, Nash, TX 75569-0282.