In Memory
Alan Brown
George Alan Brown
January 13, 1950 - October 26, 2015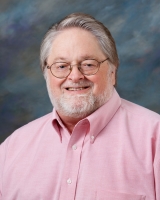 George Alan "Al" Brown passed away suddenly Monday, October 26th, 2015 in Houston, Texas. He was 65 years old. He was born January 13th, 1950 in Abilene, Texas to the late George and Erma Jo (Hunter) Brown, the eldest of three. He graduated from Cooper High School in Abilene before graduating with a Psychology degree from Texas Tech University. He then earned his Master of Science in Psychology from Trinity University.
On August 19th 1970, he married the love of his life, Donna Katherine Shed. After meeting on a blind date, they were inseparable for 43 years. They moved to Houston where they had two wonderful children that he loved with his whole soul. Alan served as the Director of Biofeedback for Dr. Francisco Perez, and later made a career change to pursue his life-long love of computers and technology. He served as an IT professional with Exxon-Mobil, and most recently, Sagemont Church.
Alan had a passion for youth ministry and missions, which he demonstrated daily in his works for the church. He went on countless mission trips that continued well after his children graduated, and most recently traveled to Nepal in August to spread the word of the Lord.
Alan cherished time with his family, and was a constant presence at every softball game, scouting event and concert. He loved classic rock and often played it too loudly. God recently gave him the gift of his first grandchild, Emerson Kate, and what a joy he felt to be with her!
Alan is survived by his beloved wife, Donna; children, Jillian Brown Chahal and Patrick (Kelly) Brown, all of Houston; granddaughter Emerson Kate; brother Carl (Jeannie) Brown; sister Roberta (Craig) Shewmake; and was "Uncle Al" to countless family members that he so loved. He also leaves behind many close friends who will miss his servant's heart. He is preceded in death by his son-in-law Karam Chahal.
We are comforted today because we know he has heard the words we all long to hear, "Well done, my good and faithful servant."
Funeral Information
A memorial service will be held on Friday, October 30th, 11 am, at First United Methodist Church- Westchase, 10570 Westpark Drive, Houston. Memorial donations may be made to the Missions fund at First United Methodist Church.